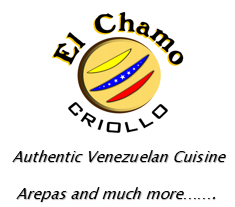 THEY'RE BACK!!!!!!!! El Chamo Criollo, Venezuelan Food Truck
TUESDAY, August 18th
5 – 8 pm, in the Amenity Lot
In the MOOD for authentic Venezuelan FOOD?
Treat yourself to something deliciously different, Venezuelan Cuisine! Try some "Arepas" which define Venezuelan cooking; these thick cornmeal patties are grilled, baked, or even fried. Moist and crispy, they are stuffed while warm with anything and everything. Naturally gluten free (wheat free) these beauties take the place of bread in most Venezuelan homes. Or enjoy Cachapas, a sweet corn version of a pancake, stuffed with fresh Venezuelan cheese and topped with succulent pork or beef. See their website for a menu and price listing: https://foodtruckfinderusa.com/jacksonville/el-chamo-criollo/
SOCIAL DISTANCING IS REQUIRED AS YOU AWAIT YOUR ORDER.
Kindly note that vendors carry a limited inventory on their small trucks. Since supplies are limited, trucks must close for service after sell out.